Side By Side / Art and Poetry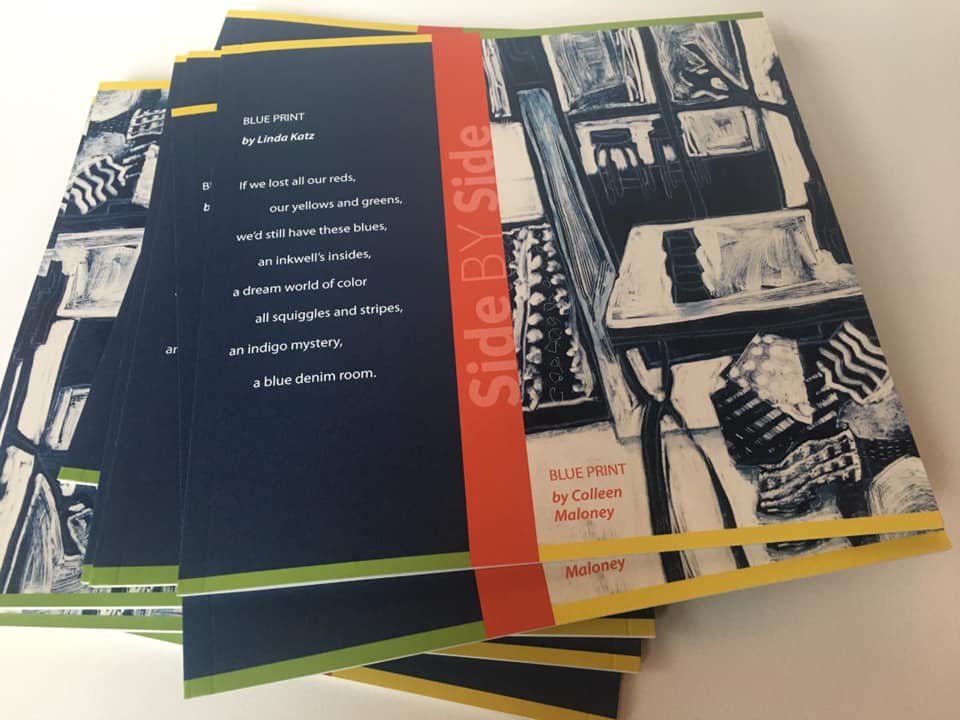 Linda's newest book is a collaboration with artist Colleen Maloney, following a mixed media gallery show in Seattle's Pioneer Square in September, 2019. The book gives you the gallery experience, featuring on facing pages Colleen's luscious prints with their accompanying poems by Linda.
In the back-cover review, Shift Gallery artist Peggy Murphy describes the book: "The two collaborators give us the sensuality of life—the perfume of sweet peas, the palpable stillness of an empty room, the savory taste of a hamburger, the whir of lawn sprinklers, and the anticipation of a freshly baked pie. They remind us to slow down and pay attention—that the simple moments count."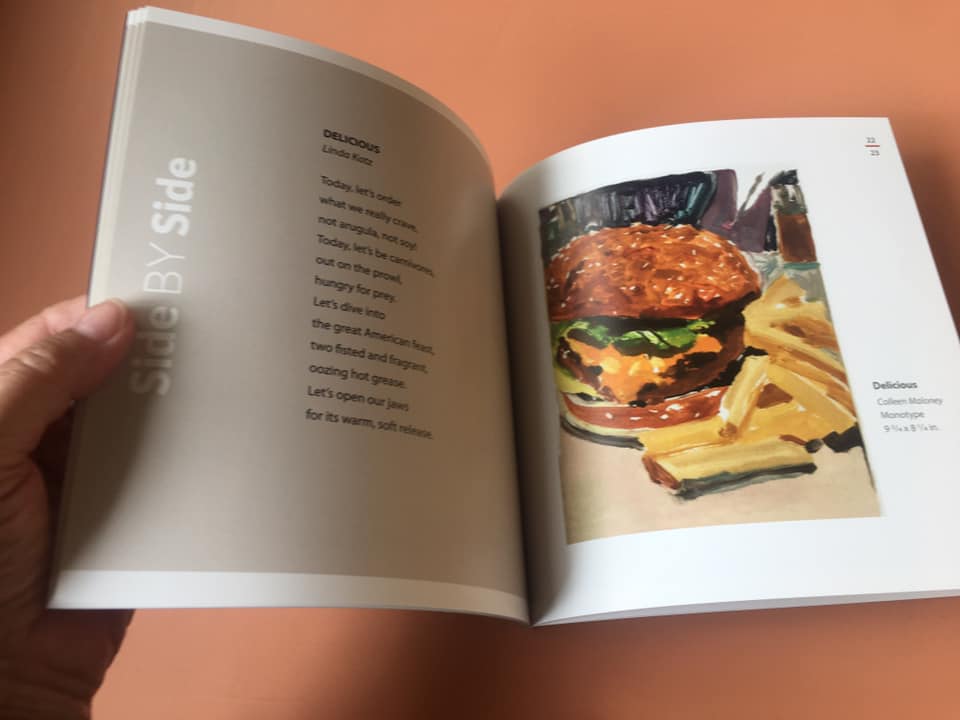 REVIEWS BY READERS:
"Yeah! What vibrant colors and words! With everything so oppressive and urgent right now, your book is a ray of sunshine to soothe and refresh the spirit."
"Your poetry is really wonderful, as is Colleen's art. Together you have created what you described in the poem Bouquet—an irresistible bunch (of poems and pictures)."
"What an inspired undertaking! A beam of light in a dark time."
This book is available from the author.
---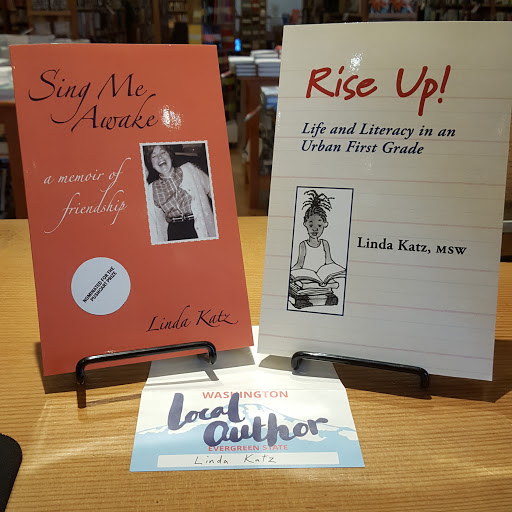 Third Place Books in Seward Park showcases Linda Katz, the Seattle author of Sing Me Awake and Rise Up!
---
Welcome to Room 18 and visit first grade in a school whose apt motto is Rise Up!
Follow a new literacy volunteer as she learns from inner-city first graders about their joys and worries, their humor and insights, and comes to some compelling conclusions. Discover the joys and sorrows of an excellent inner-city elementary classroom and some inescapable conclusions.
Linda's book, Rise Up! Life and Literacy in an Urban First Grade, is a generous, thoughtful chronicle of elementary school education. Her enthusiasm for these first-graders in Room 18 of Seattle's Hawthorne Elementary School, is infectious; and her relationship with the children, individually and as a group, is heartwarming and often humorous.
Reading this book, we follow her, a new literacy volunteer, as she learns from inner-city six and seven year olds in the city's most ethnically diverse zip code about their joys and worries, their humor and insights. The children, many of them poor, many of them new immigrants, are bright and endearing. Hawthorne Elementary, the recipient of special funding and projects due to its prior low test scores, shows the dramatic measurable progress that helps launch children into school success. The children's confidences, essays, and poetry sparkle with humor and the unexpected viewpoints of childhood.
Along with the pleasurable company of small children, the author observes the creative teaching techniques of modern education, a startling contrast with those of her own Dick and Jane elementary school years.
The book concludes with some startling school district data and three common-sense recommendations for our public elementary schools to give all kids a fair chance. This book could not be more timely.
"Ms. Katz has captured in amusing and loving detail the lives and growth of firstgrade children as they learn to read, write, and get along in the world. I laughed out loud at her account of the literal interpretations that the children often make, and I felt dismayed at the unfairness that so many of them face at such tender ages."
—Debbie Staub, Ph.D., Educational consultant and author
"This book brings elementary school alive like no other book I have read about teaching. Katz shows the power of great teaching, the importance of social and emotional learning, and the great diversity found in classrooms throughout our city. All teachers should read this book."
—Lyon Terry, 4th grade teacher, Washington State Teacher of the Year, 2015
"An excellent snapshot of the inner-city school from a common sense perspective. I student-taught first grade—a way tougher job than being state superintendent.
A fun, quick read!"
—Randy Dorn, Washington State Superintendent of Public Instruction
"WOW! What great young poets!"
—Tod Marshall, Washington State Poet Laureate 2016–2018
Read Linda's op-ed Why we should measure student progress, not just proficiency in the Seattle Times.
---
They met as graduate students in Ann Arbor in the 1960s. Together they risked their lives in Mississippi, found career paths unimagined by their mothers, embraced the major social movements of their time, and stayed close friends, despite distances, until Donna's death in 1980.
Nominated for the Pushcart Prize, Sing Me Awake is the story of two young American women, Linda and Donna, who both chose to be involved in making a difference in the fast-changing world of the 1960s and 1970s. It was a time span that included the California farm workers' strike, the civil rights movement, the assassination of heroes such as Martin Luther King Jr. and Robert F. Kennedy, the protest against U.S. military involvement in Southeast Asia, the rise of Black Power, and eventually the rise of women's liberation.
Linda and Donna met in the early 1960s in Ann Arbor, where the two young women were students at the University of Michigan. In 1966, trained by the Congress on Racial Equality (CORE), they made frequent trips to Mississippi to march with Dr. King and to partake in the dangerous work of black voter registration.
Their friendship lasted until 1980, when they both lived in Seattle and where Donna died of a brain tumor. During their years of friendship, they were not always together. Donna, who was the more adventuresome of the two, traveled more and wasn't an ideal correspondent. But the friendship survived separation, and their shared ideals and activism kept them on similar paths. Those paths converged in Seattle, where the two women campaigned together against Donna's cancer.
Now, as Linda recalls their fifteen years of friendship, and the causes they espoused together, Donna returns over and over with imagined commentary from the other side. Donna in death has become a better correspondent than she was in life. And she remains what she was in life: a buoyant, witty, energetic, and laughing soul.
Sing Me Awake is interspersed throughout with poems and excerpts of poems by writers author Katz, who is herself a poet, especially admires. Each of these poetic passages was chosen for its resonance with the theme and the story of this formative friendship with a remarkable friend.
"In a tribute vibrant with the friendship it celebrates, Linda Katz sings the reader awake. The compelling details of time, place and feelings take us with these two women from their college days to the Civil Rights struggle, into the years of family and careers and, finally, to one's brave death.… This moving, well-told, and often funny, story is more than 'a good read,' though it is that. Sing Me Awake is about lives that matter, to one another, and to the larger world."
—Jeanne Lohmann, poet and author of Home Ground
"Linda Katz's accomplishments as a prose stylist and storyteller show in her debut, which captures a time and place in our history and serves as a beautiful, honest elegy for her close friend."
—Michele Leber, book reviewer for Booklist and Library Journal
Read Jerry Large's review in the Seattle Times.
---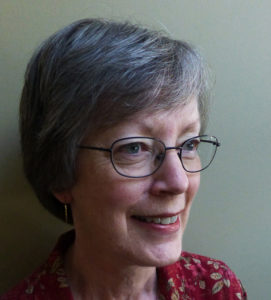 Linda Katz, Master's degree graduate of the University of Michigan, enjoyed a long career in child welfare as a clinician, administrator, child advocate, and lecturer. As a writer and trainer she developed innovations to make the child placement system better serve our most vulnerable neglected and abused children, and taught these methods nationally and internationally. Along the way she has always been a poet. She is the author of many articles in professional social service journals, as well as poems in literary magazines. After retirement she found she was missing the company of small children and was lucky enough to find a place where she could be useful at Hawthorne Elementary School. She lives with her husband in Seattle.